If you been a fan of the Ginger On Wheels Youtube channel for any length of time then you know, the Kaabo Wolf Warrior 11+ is my favorite scooter. It's got dual 1200 watt motors, a beastly dual fork design with motorcyclish front suspension, amazing knobby tires, dual hydraulic disc brakes. It was the first electric scooter I purchased that I didn't regret as soon as I stood on it. It just seemed like it had everything; a horn, huge llights, zero stem wobble. Oh boy, I could go on. It just seems like the Wolf has everything. The only two things I wish it had MORE of though, acceleration/hill climbing power, and range.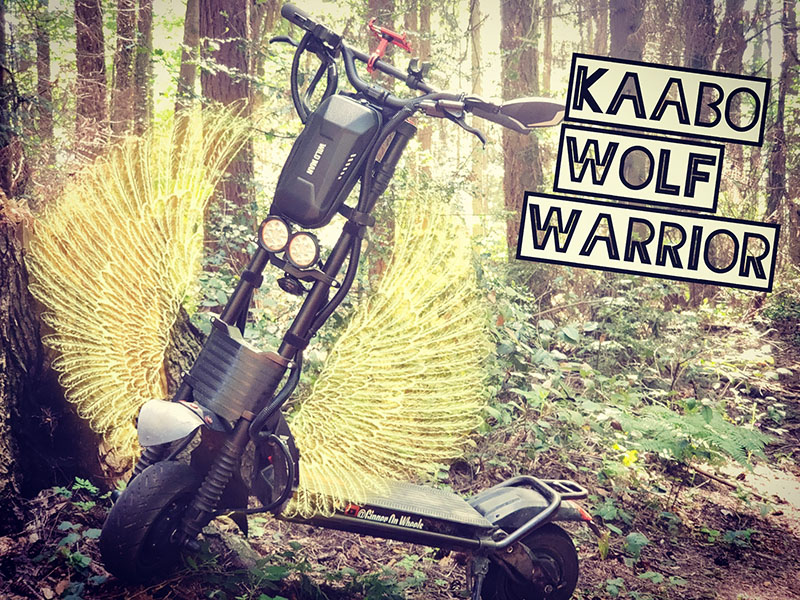 That's my scooter over there, the Wolf with wings. I love it, but like I said it's got a couple small problems. Believe it or not, I have bogged out the motors a couple of times going up very steep hills offroad. The stress of your scooter slowly crawling to a stop on a very steep piece of trail can only be described as, intense. Then you're stuck on the trail with 100lbs of scooter worth more than your biweekly paycheck and it's really not fun.
The second small issue I have with the Wolf Warrior 11+ is the range. The manufacturer advertises something like 100 miles of range on one charge. We know to always take the manufacturer specs with a grain of salt, but this time they are way off. If I'm really gunning it around in dual motor mode, I'm lucky to see 20 miles of range. Even when driving as conservatively as possible on relatively level ground I only got 46 miles of range.
With Voromotor's latest addition of the 2021 Wolf King to their scooter lineup I'm looking to see both of these complaints of mine get left in the past. The new Wolf King promises an optimized BMS which is allegedly up to 90% more efficient than that of the original Wolf's BMS. Now as for how that optimization will effect the range, only time will tell.
The other HUGE improvement the Wolf King has is power! Will this be a version of the Wolf Warrior with  more torque so that getting stranded on steep hills is a thing of the past? The good news is, all signs point to yes! The new Wolf King operates on a 72 volt system, a 12 volt increase over last year's Wolf Warrior. It also sports dual 1500 watt motors, another bump in power over the original Wolf's 1200 watt motors.
One of the other cool, and obvious, changes; the Wolf King is struttin' a gold paint job. Love it or hate it, the new Wolf King is gold in color. It looks a little more yellow than gold to me, but I'll have to wait until I can see one in person to make a judgement on whether I like it or not.
The only way to truly know what the new Wolf King is cookin' is to test the scooter myself, which I'll hopefully get a chance to do soon. For now, this scooter is only in the pre-order stages, which means the first production batch has yet to hit the general public. Stay tuned to the Ginger On Wheels YouTube channel, or this website's newsletter, to stay in the know about the latest developments surrounding the Wolf King.